About Marilyn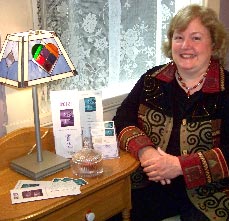 Marilyn Landis is a Licensed Massage Therapist, Usui Reiki Master Teacher and Karuna Reiki® Master. Marilyn, a native of Lancaster, Pennsylvania, has always wanted to work with people in a healing way. She first heard of Reiki in 1998 and after reading several books about Reiki, she attended classes to learn even more, which led the way to receiving her first attunement to Reiki I in August of 1999. After practicing Reiki energy healing at this level, she wanted to learn even more about Reiki. Marilyn went on to take classes for Reiki Level II and Reiki Level III. On March 12, 2002, Marilyn completed her Reiki Level III Master Teacher training.
Continuing on her journey, Marilyn pursued a career in massage therapy. She attended the Lancaster School of Massage in Lancaster, Pennsylvania, and graduated with her Certificate on June 27, 2003. Since that time, Marilyn has been offering massage and Reiki therapies to her many clients.
Further enhancing her modalities, Marilyn received training for and all attunements in Karuna Reiki®, receiving her Certificate on November 21, 2009. Marilyn is now a Karuna Reiki® Master.
Reiki and massage are two of Marilyn's greatest passions in life. It brings her much joy to know how these therapies have aided her clients physically, mentally, emotionally and spiritually.
Marilyn has her own Reiki and massage therapy practice conveniently located at 222 West Orange Street in downtown Lancaster, Pennsylvania. Hours are by appointment.
Marilyn is a Professional Member of ABMP (Associated Bodywork and Massage Professionals) and is registered through the ICRT (International Center for Reiki Training) for Karuna Reiki®.