The Practice Of Massage Therapy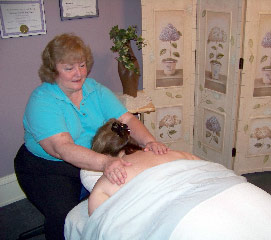 Records show that massage therapy has been practiced in a variety of forms since ancient times. Massage therapy was used in China more than 3,000 years ago. In Egypt, the petroglyphs depict the use of massage as well. Today massage therapy offers modern techniques which can include smooth gliding strokes, gentle kneading, surface friction, rocking, tapping, compression, and trigger point pressure.
Each massage session is created to meet the individual client's needs and physical condition at the time of the session.
Some of the benefits of massage include lowering blood pressure, improving circulation, increasing flexibility, and reducing muscular pain and discomfort. Massage is also beneficial in easing stress, releasing tension, revitalizing energy, and improving sleep patterns as well as promoting a sense of peace and well-being.
Reiki can also be combined with any massage session, further enhancing the benefits of massage. For more information on Reiki, please see A LOOK AT REIKI.